Detailed Guide on PDF Link Creation
The simplest way to send the document to your colleagues or business partners is by sharing a PDF link with them. This way, you don't need to add a heavy-weight attachment that may not even be possible to send from multiple mailing services. Here you will learn how to link a PDF and send it to anyone you want.
How to Link a PDF
If you want to learn how to create a URL link for a PDF document, you may already need to send the papers ASAP. There are several programs that may help you with it, but the quickest and easiest way is to use PDFLiner. You don't have to wait an hour for downloading or searching for the right tool among multiple options. Everything is crystal clear and right in front of you. Check this instruction on how to make a PDF into a link.
Step 1: Upload your document
You start with opening or uploading the PDF to the PDFLiner. You can do it on the home page. All you need is to click the "Upload Document" red button right in the middle of the page. If you have the document uploaded in PDFLiner you may open it from the start. Now you can learn how to create a link to open a PDF file in PDFLiner.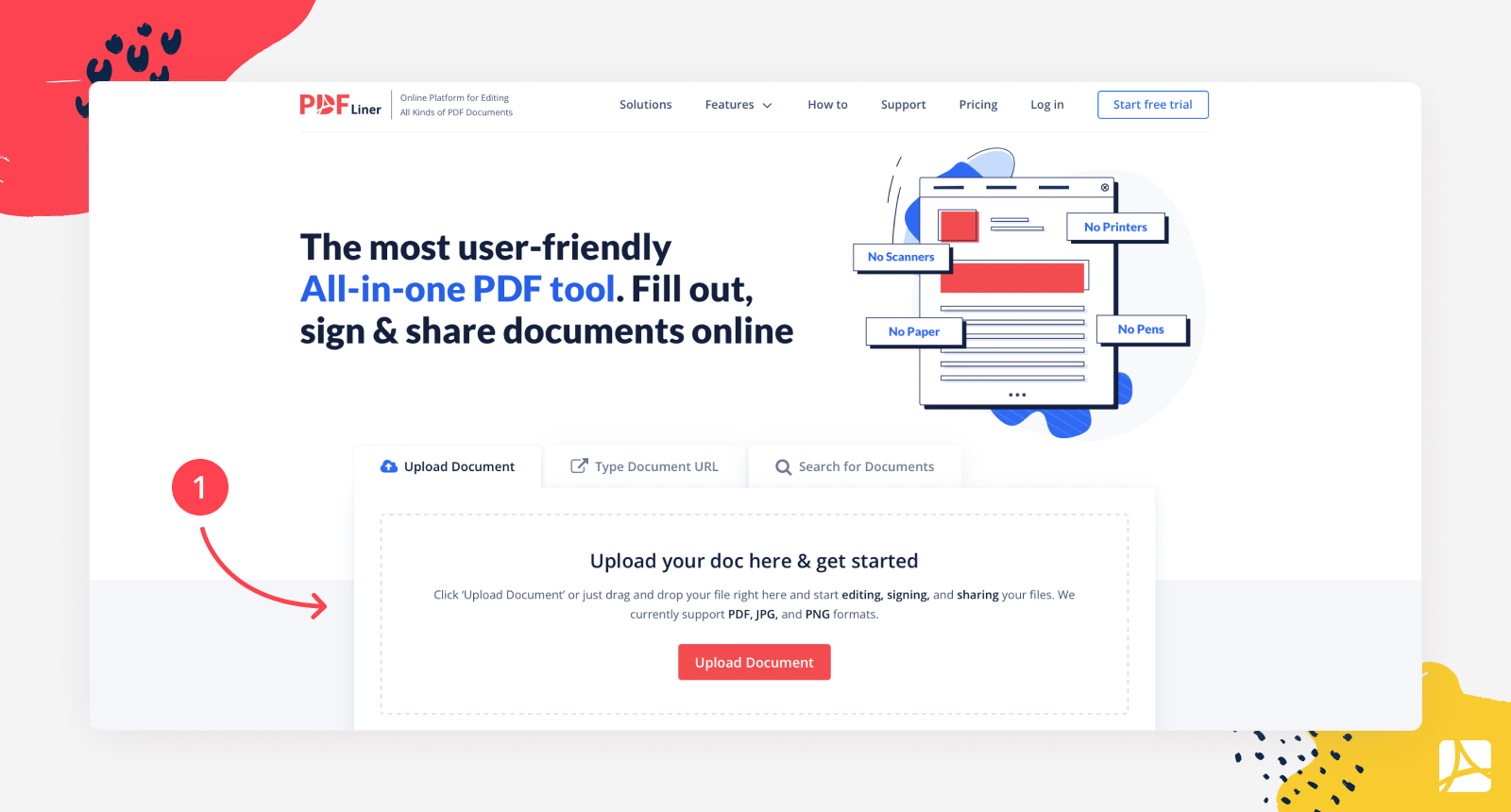 Step 2: Edit your PDF
Don't rush with editing the document. Use the offered tools, add the text, change it, add or delete pages, and put an e-signature inside. Do as you wish, and don't forget to press "Done" once the document is ready. The button is bright red and is visible from afar. It is located in the right upper corner at the toolbar.
Step 3: Choose the "Share" option.
Here is the moment when you can share your document or just simply save it as PDF or send it by email.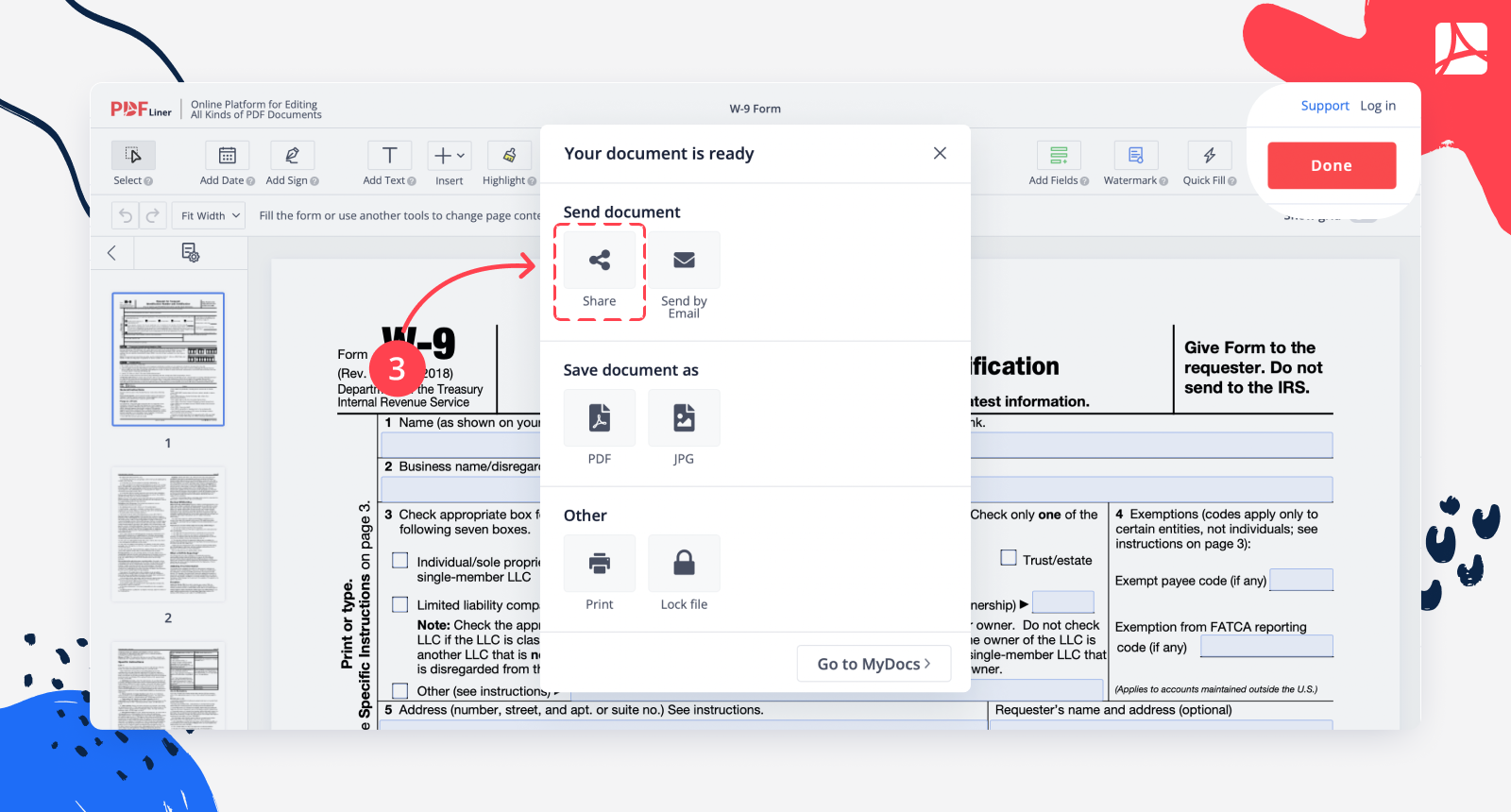 Step 4: Create a Public Link
In the dialog window, click on the Public Link option;
Pick one of the two access options (anyone with the link can edit or just view);
Specify the expiration day of the link or check the "never expire" option.
Copy the link that will appear.
Click the "Share" button.
This is how to share a PDF as a link.PDFLiner also offers you the different saving options:
Send the document: share or send by Email;
Save the document as PDF or JPG;
Another option: print or lock the file so no one without the key can open it.
By the way, you can see all your shared documents in your dashboard at the "Shared" tab. Here you can also change the sharing settings whenever you want or even stop the sharing.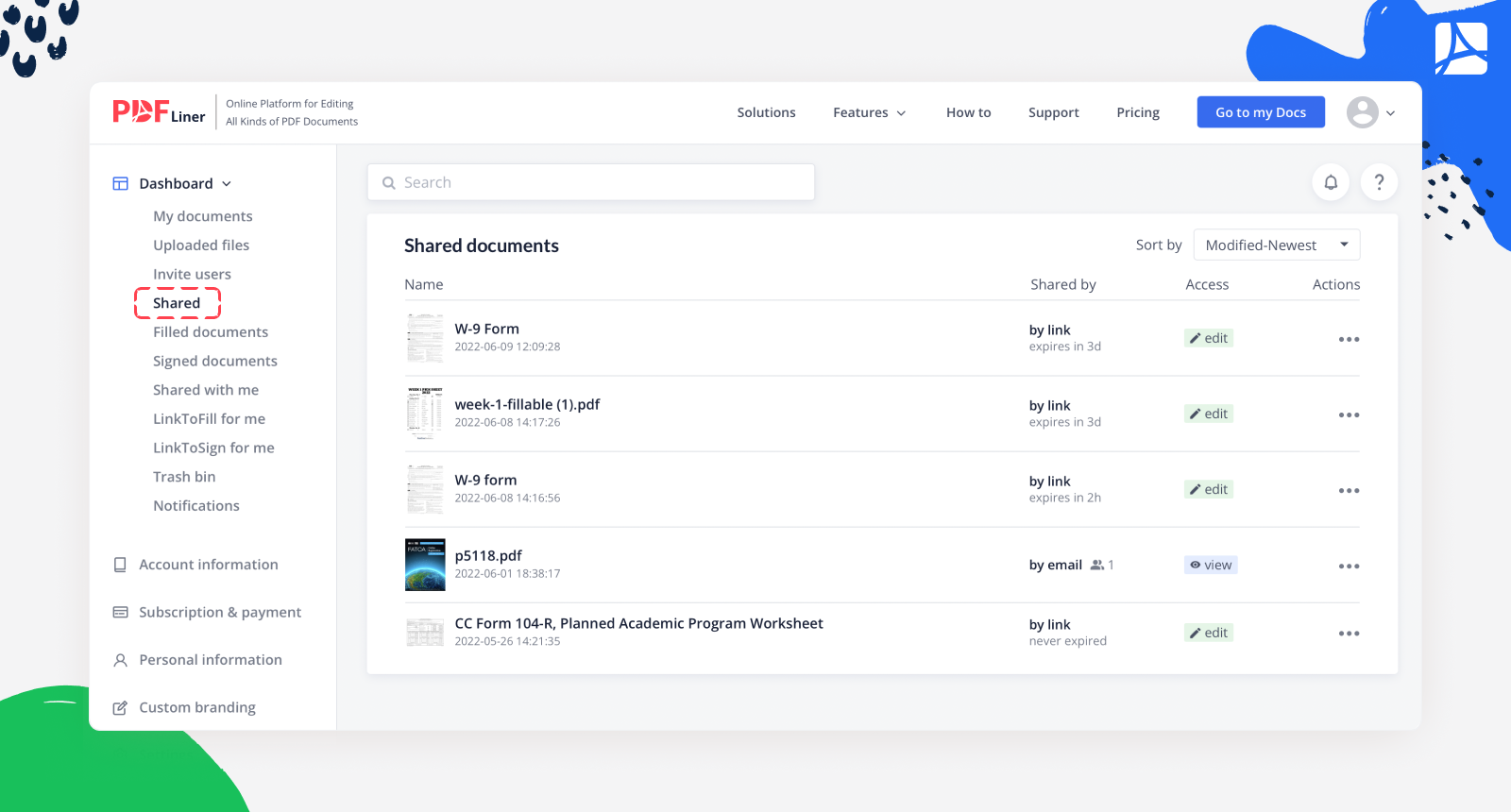 Once anyone will edit or view your shared document using the link you will receive a notification in your dashboard.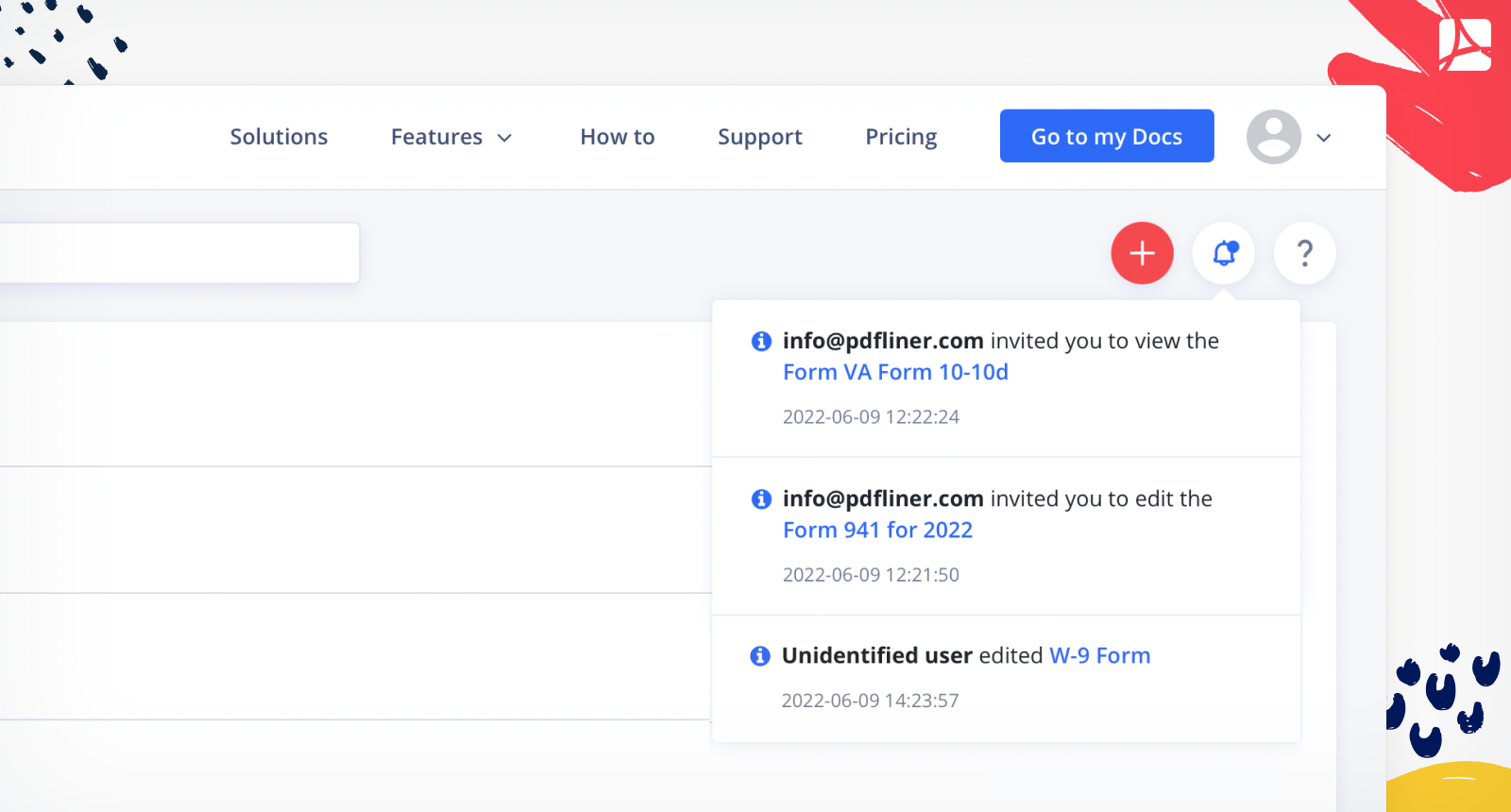 What Can Other People Do With These Links
Once you've learned how to share PDF, you may be wondering whether other people can see the same tools as you and can provide similar editions with a shared document. If they have an access to edit, they will be able to use all PDFLiner tools and then save or print the edited document. The most popular features of PDFLiner that can be used:

There are many reasons to create a shareable PDF link. For example, you may want to share a document with a colleague or friend, or you may need to provide a document for a class or work assignment. However, there are also some potential drawbacks to consider before creating a public link to a PDF.
One of the main advantages of creating a public link to a PDF is that it allows you to share the document without having to send it as an attachment. This can be particularly helpful if the PDF is large or if you are unsure of the recipient's email server capabilities.
Additionally, public links can be very convenient if you need to provide a document to a group of people, as everyone can simply access the link rather than having to track down each individual.
However, there are also some potential disadvantages to consider before creating a public link to a PDF. One is that anyone with the link can access the document, so you should be sure to only share it with people you trust.
Additionally, public links can be easily shared without your knowledge or permission, so there is a risk that the document could end up in the wrong hands. Finally, depending on where you host the document, there may be security risks to consider, such as the possibility of the document being hacked or accessed without your permission.
Overall, there are both pros and cons to creating a public link to a PDF. It is important to weigh these carefully before deciding whether or not to share a document in this way.
Pros:
Great alternative to attachents;
Simple sharing to group of people;
Social Media sharing;
No registration required to access;
Sharing via messengers;
Faster process.
‍
Cons:
❌ Anyone with the link can access;
❌ Data safety;
❌You won't be able to tack who edited your PDF.
What Else Can I Do With PDFLiner
PDFLiner is a great editor for PDF files, no matter what your intentions are. It helps you to perform all basic tasks and even more. After you've seen how to make a PDF link, you can start by learning other services the app offers. They are all located in the upper panel and signed or are hidden behind the recognizable icons. Use them to edit the file.

And once everything is in its place, create a download link for PDF in no time. The red button "Done" is the last step in your editing. You press it after you are sure that everything is perfect, and you are ready to send the link PDF files to another party.
Frequently Asked Questions
Here are the most frequently asked questions from users who want to learn how to get a link for a PDF and send it. Check the answers before you begin to use PDFLiner.
Why can a link be unavailable?
After you create a PDF link make sure you save the link somewhere. Use it to check whether you can open it. The link might be unavailable if you made a mistake in its name. The other party has to be online to open it.
Can I open a link if I am not registered in PDFLiner?
Yes, you can do it. You don't have to be registered in PDFLiner. However, you need to indicate your address or log in if you want to create the link. It does not take much time, and you will have a free trial period.
Can I rename a link offered by PDFLiner?
You can change the link if you need. You may also lock the document from people who don't need to see it. Use advanced features of PDFLiner for free.
How to upload a file as a PDF?
Uploading a PDF file to PDFLiner is pretty simple:
Go to PDFLiner main page or login into your account.
Click on the "Upload" form.
Choose any PDF from your device.
‍
How to host a PDF online?
There are a few ways to host a PDF online. One way is to upload it to a website that allows file sharing, like PDFLiner. Another way is to use a service that specializes in hosting PDFs.
To post PDF online, create a public link with PDFLiner by following these steps:
Go to the PDFLiner main page and click the "Upload PDF" button.
Select the PDF file that you want to post online.
Click the "Done" button.
Choose the "Share" option.
Create a PDF share link.
Check out the Most User Friendly PDF Sharing
Optimize your teamwork and impress your clients with the progressive tool